The girls enjoyed "playing math games" on A+ Tutorsoft, Inc. We received a Premium Edition A+ Interactive MATH CD for 1st grade. It includes multimedia lessons and Interactive Q&A. You can print worksheets and view a textbook on the CD ROM. There are lesson plans (just a checklist, really) and exams with solutions guides too. It's certainly a comprehensive maths program. It retails for $124.99. Check for an amazing coupon code at the end though!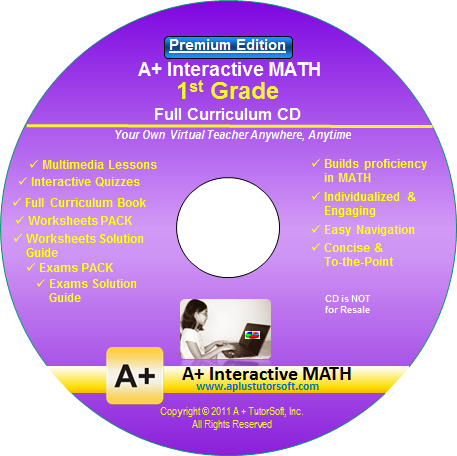 Parents/Teachers set up a login for each student so their progress is tracked. You can also just log in without any tracking. There is also a parent login where you can change settings, like remove the solution guides! Thankfully, that's not an issue with my girls at this time.
The girls enjoyed going through the program. They listened to the lessons and did the Interactive Q&A. They were excited to do it and enjoyed it. It was really easy for them and they could navigate easily through the lesson without much help. There is no teacher or parent involvement needed. The narrator does all the teaching and then the Q&A evaluates. Done. Each lesson is just a few minutes. The Q&A was 6-12 questions.
Katie chose to do the fractions unit.
Tori wanted to do the money unit.
The visuals in the lessons are wonderful. The girls understood the narrator and liked being able to type in the numbers to answer some questions. Tor retained many of the details about coins and taught them to her little brother (age 2!): "Two coins are bumpy on the sides and two are smooth." Katie liked the pizza fractions. We all liked the little frog where we typed in the answers.
Here's a screenshot that shows all the options in the toolbar and the units in red down the left side. Chapters are in green.
The time unit was excellent. This unit covered calendars and clocks extensively. There's even a chapter about seasons. And now the girls randomly being counting seconds One Mississippi, Two Mississippi, etc…hilarious! So, I have to watch it when I tell them, "Just a second, dear…"
The last two units are very basic geometry (mostly shapes) and algebra. I love this advanced math intro! Great for critical thinking.
My only concern is during the Interactive Q&A for fractions, several answers are: "D. All of the above." This really threw Kate for a loop because as soon as she saw a right answer in A she would pick it without even looking at the other choices. Why more than one right answer for a first grader? And perhaps this is just lack of experience on our part that we don't do testing and quizzing like this. Ever.
Because later on, the girls got to actually type in answers to the questions, so at least they aren't all multiple choice. They were more successful when they could answer on their own. Overall, I don't feel they were being tested well for real comprehension of the material. But if the student gets an answer incorrect, the narrator reteaches the concept immediately and extensively, and that's great. But overall, the question section is very low level thinking, in my opinion. But I'm not a great advocate for tests. I prefer to see mastery and I can do that with interacting with my children while they do their lessons instead of having them do multiple choice worksheets and exams. Just for the record: my husband disagrees and thinks there's a place for these though.
The program allows you to print off worksheets and cumulative exams and you can view a whole textbook online too. The girls did well enough with the worksheets. I made them read through the questions and answer them and they weren't happy about it. The worksheets were almost like tests, all multiple choice. It extends the lesson some. It wasn't so necessary for Kate with the fractions since the pages were so similar to the online questions and she aced it. Tori needed a little bit of help with recognizing coins and value, so I have to admit that the worksheets were helpful for her to review the material.
There is a progress tracking chart that parents can track student grades (it's not automatic; you have to input it manually) and print certificates of accomplishments.
This program is great as a supplement to our regular math program. It doesn't cover the material extensively enough or suit our learning and teaching styles to be our primary math program. The girls really enjoyed doing math on the computer. They considered it a game and it certainly was fun for them.
A+ Tutorsoft is offering a 50% OFF Special Promotion through the end of MARCH.
The coupon code is: SPOFFER50


Disclaimer
: I received a free copy of this product through the Schoolhouse Review Crew in exchange for my honest review. I was not required to write a positive review nor was I compensated in any other way. All opinions I have expressed are my own or those of my family. I am disclosing this in accordance with the FTC Regulations.